Tributes have poured in for Sky Sports presenter Jeff Stelling following his final Soccer Saturday show.
The 68-year-old marked his departure with an emotional farewell – which included the revelation that he had received a surprise phone call from Elton John.
Stelling said he was left "starstruck" when the legendary singer – once the owner of Watford football club – rang him at home to wish him well ahead of his final Soccer Saturday appearance.
"Elton John rang me this week," Stelling said.
"Someone asked me the other day if I have ever been starstruck, and yeah… I was starstruck when Elton John rang me at home to say 'thank you very much for all you have done'.
"He (Elton) said to me: 'Every week I watch the show and every week you tell me Watford are losing, and every week you tell me Hartlepool (the team Stelling supports) are losing – so I feel like we are kindred spirits'."
Following a celebratory montage and round of applause at the end of Sunday's Soccer Special programme, Stelling joked: "Thanks for the applause. I mean this is tricky because I've changed my mind."
Stelling paid tribute to all those who work on the show, including the call centre staff, runners, production crew and commentators.
He said: "It's a team game."
Stelling said his time at Sky had been "absolutely wonderful".
He added: "It's been the best job that anybody could possibly wish for.
"My wife Lizzie takes great pleasure in saying 'you're the luckiest man ever to take a breath'. And you know what, I don't tell her this often but she's right."
Stelling ended the show by paying tribute to the viewers for their incredible support.
Stelling last month announced his intention to step down after more than 30 years at Sky and 25 years at the helm of the flagship football results show.
He said it was the "right time" to move on and give Sky Sports viewers a break from his "relentless rants, bad gags and over-the-top celebrations of Hartlepool United goals".
Well-wishers took to social media to pay tribute.
Son Robbie posted: "Well done dad, so proud of you.
"You've put your heart and soul into the show and have no doubt left a mark on more than just the world of football.
"As a father and broadcaster, you have taught me so much about football and life.
"You are the best there has ever been."
Piers Morgan tweeted: "Very few people get to leave a long-running job in TV whilst still at the absolute peak of their powers – but Jeff Stelling just did it.
"Thanks for all the fun, excitement, entertainment and incredible professionalism, Jeff – you'll be greatly missed."
Former This Morning presenter Eamonn Holmes tweeted: "Jeff Stelling… Do something you love and you will never work a day in your life. You have never worked. You are The Goat. Respect. Enjoy the next chapter."
LBC presenter Iain Dale thanked Stelling for "hours and hours of tremendous sports broadcasting".
He added: "Few people should ever be described as 'total legends' but Jeff really is one. Every football fan's best friend."
FootballJOE posted: "Twenty-five years of some of the best laughs on telly. Thanks for being the voice and face of football on a Saturday."
Hartlepool United wished fan Stelling "all the best", adding: "Our local hero."
FC Halifax Town joked: "All the best in your retirement. You're always welcome to Halifax vs Hartlepool next season, we will try not to call it off twice this time."
NFL UK said "congrats on an incredible stint", declaring: "You'll be missed from our screens."
On Friday, Prostate Cancer UK thanked Stelling for wearing the charity's badge for the past eight seasons.
A spokesperson added: "You have shared our message to millions of football fans, many of whom have been at risk of prostate cancer."
Stelling's charity football march for Prostate Cancer UK will take place this September.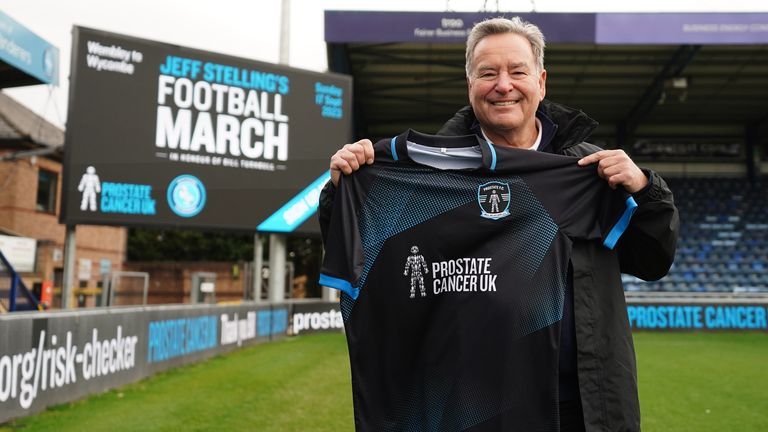 TV presenter Chris Kamara also posted an early tribute, describing Stelling as the "best broadcaster" he has ever met.
In the post on Thursday, he said: "I am getting my tribute in early because Jeff has been a massive part of my life and I love him to bits.
"One of the things I do miss is working with the maestro. There will never be another. You are 'Unbelievable Jeff' – and always will be."
Stelling joined Sky in 1992. He was also the main host for the broadcaster's live Champions League coverage between 2011 and 2015.
He previously announced plans to leave Soccer Saturday at the end of the 2021/22 campaign but stayed for another season.
Gary Hughes, Sky Sports' director of football, previously said: "Jeff has been synonymous with Saturday afternoon football for decades, exciting and enthusing football fans everywhere.
"His unique broadcasting ability and passion for the game has made Soccer Saturday an unmissable fixture for fans and has won him a multitude of awards.
"He will be sorely missed."
Source : Sky News